Employee volunteers aid St. Jude contact tracing team in fight against COVID-19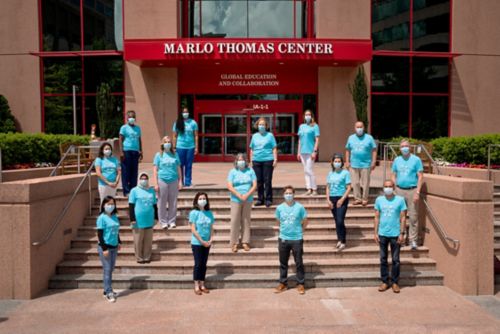 In an effort to manage rising COVID-19 cases at the beginning of the pandemic last year, several St. Jude employees volunteered to be contact tracers to help protect the campus from this highly infectious disease.
The Occupational Health team knew they needed to build a reliable and larger contact tracing team as employee case numbers increased. The objective was to create a program for COVID-19 case investigation and contact tracing that follows Centers for Disease Control and Prevention and Tennessee Department of Health guidelines. It also had to be compliant with Occupational Safety and Health Administration regulations and fit the specific needs, values and culture of the institution.
"Immediate action was needed to scale up our capacity by training volunteers to prevent transmission of COVID-19," said Diego Hijano, MD, deputy medical director of Occupational Health.
They recruited doctors, infectious disease specialists and other clinicians to serve as contact tracers. Hijano oversaw the data collected from contact tracers and led the effort to keep the campus safe.
"Once we recognized that we needed a team, I reached out to some of my Infectious Diseases colleagues since it comes natural to them to do this process of investigating and contact tracing," Hijano said. "I asked if they would be willing to get training and be part of the team."
As Hijano and his team started putting everything together, volunteers from other departments reached out to lend a hand to create the St. Jude Case Investigation and Contact Tracing Team.
The team used a system of a two-person call, with an Occupational Health nurse and a volunteer that did the investigation. Both worked together on the case investigation and contact tracing while on the call with an employee. They talked to the individual for about 40 minutes inquiring about symptoms, places they've been and other key details. The team would then report data to the doctors.
The work wasn't easy. Due to the ups and downs of the pandemic, the team followed the latest news about COVID-19, as well as number of cases in the Memphis area and on the St. Jude campus.
"There were times where we were very busy, where we had 18 cases in one day. With each case call taking 30 minutes to an hour, we had to have backup teams for a while," Hijano said. "We were actually working with two teams per day. So that meant two investigators and two contact tracers teamed up every day to complete the process in a timely manner. Going through the ups and downs and trying to adjust for ongoing changes were the most difficult parts of this process."
However, Hijano still sees a bright side through it all. Despite the challenges, the experience has been more than rewarding.
Liz Sniderman, MSN, APRN, Global Pediatric Medicine, one of the contact tracing volunteers, is a St. Jude nurse practitioner.
"At the beginning of the pandemic, we were all working from home," Sniderman said. "As a health care provider, I was feeling like there had to be something I could do to help with the pandemic response."
Sniderman has seen the whole scope of the pandemic firsthand by being a contact tracing volunteer – from rising cases every day and uncertainty, to contact tracing over 10 cases a day, to few to no cases. Now, cases are rising again due to the delta variant. It's been a journey for providers like her, yet she values her time working with the contact tracing team and doing her part.
"Many employees were extremely appreciative of the opportunity to have their questions and concerns addressed with a health care provider, and for the support we give them," Sniderman said. "I felt proud to be a part of this St. Jude team that was working to both keep our campus safe, but also to support our staff during an incredibly challenging time."
Other volunteers, like Ali Suliman, MD, Bone Marrow Transplantation and Cellular Therapy, and Tim Folse, MD, Oncology, shared similar experiences.
"Of course, whenever I picked up the phone to call a COVID-19 positive person, I was worried or concerned for their health," Suliman said. "But the most rewarding part is knowing that employees recovered from their illness."
"I appreciate how St. Jude cares for each patient, family member and employee and goes to the max to provide the best care," Folse said. "Even though this has been a very tough year, we have learned so much that will make us ready for the future problems that will inevitably arise."
"In addition to the symptoms screening, the universal use of masks, physical distancing and fast turnaround of COVID-19 tests, an efficient contact tracing program allows for the campus to remain a safe place even when viral spread is at its highest in the community," Hijano said.
Even though the pandemic isn't over, with the delta variant making waves, and cases rising, the contact tracing team helps keep our campus safe.
By the numbers:
Over 950 COVID-19 case investigations.
Over 160 contacts traced.
18 cases were the most seen in a day.
Less than 24 hours to complete all investigations (with 99% completed within 6 hours)
100% of contacts traced, notified and followed during their quarantine
Current Team Members

| Name | Primary Role | Secondary Role |
| --- | --- | --- |
| Diego Hijano | Case Investigation & Contact Tracing Lead | Case Investigator/ Contact Tracer |
| Elisabeth Adderson | Case Investigator | Contact Tracer |
| Gaby Maron | Case Investigator | Contact Tracer |
| Sheena Mukkada | Case Investigator | Contact Tracer |
| Craig Gilliam | Case Investigator | Contact Tracer |
| Aditya Gaur | Case Investigator | Contact Tracer |
| Hana Hakim | Case Investigator | Contact Tracer |
| Tim Folse | Case Investigator | Contact Tracer |
| Ali Suliman | Case Investigator | Contact Tracer |
| Liz Sniderman | Case Investigator | Contact Tracer |
| Laquita Sisco | Contact Tracer | Case Investigator |
| Changhong Jiang | Contact Tracer | Case Investigator |
| Linnie Hemphill | Contact Tracer | Case Investigator |
| Jenna Gibson | Contact Tracer | Contact Tracer |
| Tiffany Wilson | Contact Tracer | Contact Tracer |
| Gail Johnson | Contact Tracer | Contact Tracer |
Past Team Members

| | | |
| --- | --- | --- |
| Mary Anne Giannini | Case Investigator | Contact Tracer |
| Madeline S. Wilson | Contact Tracer | Case Investigator |
| Ruth Johnson | Contact Tracer | Case Investigator |
| Danielle Alvarado | Contact Tracer | Case Investigator |
| Linda Atwood | Contact Tracer | Case Investigator |
Support:
Kristi Lozon; Mary Kaye Steele; Kathleen Fatolahi; Christy- Michelle Hotard, Sandra Dennis, Namratha Intha and the REDCap Team